What better way to revive this blog than with a follow-up on the post about selling through social media for our own website?
Two and a half years is a really long time in the internet world, so surely a lot of things must have changed? So here's the new traffic driven by social channels: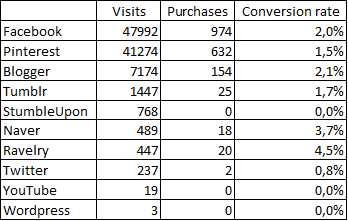 note: do not compare absolute numbers between 2015 and 2013; I have chosen different periods
And for comparison, also the traffic from Google's organic search below:

So what difference do we see between 2015 and 2013?
Facebook is driving less traffic, but is still the number one social traffic source. It took us a long time to feel the Facebook squeeze for commercial pages, but even for our content it was inevitable. Conversion rates are up though which point in the direction of less volume, more relevance/quality. Exactly what Facebook would like to see.

Pinterest has grown immensely, both in volume as in sales. Everyone knows that Pinterest is growing at a massive rate. However there changes such as rich pins (and more recently their ecommerce integration) seem to be helping in Pinterest's transformation from a social discovery engine to a social shopping engine.
Everything else is dropping in importance. StumbleUpon has nearly died for us, as we ignore the low-quality traffic channel in our marketing mix now. Similar conclusion can be made for Tumblr, Twitter and the likes: they just don't seem to do it for us, so we tend to focus on our primary social channels. Some of these definitely still have potential, but need to move out of the way for our two giants Facebook and Pinterest.
Is there a new guy in town? Instagram definitely has some potential with its -similar to Pinterest- image focused medium. However since you cannot implement direct links to your website, as a traffic driver it will probably be rather small. Our limited efforts however have proven though that one can stir up quite an interest here as well.
It seems that most social media channels are growing up. We do see the 80/20 rule into play with regards to traffic levels, where it is our strategy to focus on less channels that to spread as much as possible. Also the uptake in conversion rate will be something that is looked at in the Facebook and especially Pinterest headquarters with great satisfaction.